Dates 
Hashtags 
#NTSW 

#NationalTireSafetyWeek 

#TireSafety 

#TireSafetyTips 

#RoadReady 
#Tire Maintenance 

#TireCare 
Links 
Sample Posts 
Twitter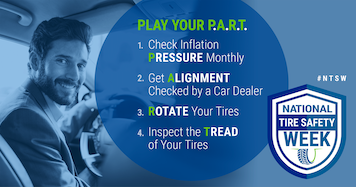 Play your P.A.R.T. to stay safe while traveling this summer.  
Visit our website to learn more about #TireSafety #NTSW  www.ustires.org/ntsw
---
Tires are the only part of your car that touches the road. Keep them #RoadReady by checking your tire pressure each month. #NTSW  www.ustires.org/ntsw
---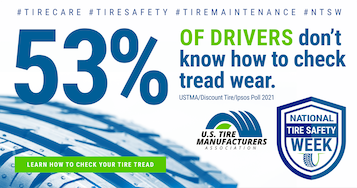 Do you know how to check your tire tread? Use the penny trick. If part of Lincoln's head is covered by the tread, you're good to go. If you can see all of his head, it's new tire time.   Learn More: www.ustires.org/ntsw #NTSW #TireMaintenance  
---
Did you know misaligned wheels can lead to uneven, rapid tread wear? A tire professional  should correct your alignment. Stay #RoadReady. Learn More www.ustires.org/ntsw
---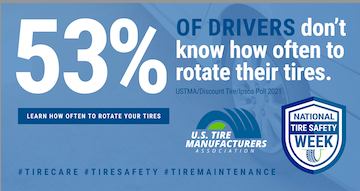 POP QUIZ: How often should you rotate your tires? Rotate your tires based on recommendations in your vehicle owner's manual. If no rotation period is specified, we recommend every 5,000 to 8,000 miles. Rotating your tires helps them to wear evenly. Learn more: www.ustires.org/ntsw
---
LinkedIn & Facebook 
Summer travel season is underway! People are headed to the beach, traveling to see loved ones, or enjoying a lengthy road trip. It is important to keep tire safety top of mind.  
🚙 Check your tire pressure monthly and ahead of long trips. 
🚙 Get your alignment checked by a car dealer 
🚙Rotate your tires 
🚙 Inspect the tread of your tires. 
Play your P.A.R.T. to stay safe while traveling this summer. Visit our website to learn more about #TireSafety  www.ustires.org/ntsw
#NTSW #TireSafetyTips #RoadReady  
---
Did you know that tire pressure is an important condition to monitor? Under-inflated tires generate excessive heat build-up and stress, causing irregular wear and internal damage. Overinflated tires are more likely to be cut, punctured, or damaged when hitting an obstacle, such as a pothole. 
Proper tire pressure gives tires the ability to support the vehicle's weight. It also supports your ability to control your vehicle for maximum performance, which leads to maximized fuel economy.  
Learn more about tire safety www.ustires.org/ntsw  
How do you know when it is time to get your alignment checked? As a routine part of maintaining your tires, you should check the alignment every other oil change or as specified by your owner's manual. 
Here are some clear signs that you need an immediate alignment: 
Sharp pulling in one direction 
Slight pulling 
Steering wheel vibration 
Crooked steering wheel 
Uneven tire wear 
Having your tires aligned can result in improved vehicle handling and optimized tire life.  
Learn more: www.ustires.org/ntsw
#NTSW #TireMaintenance #TireSafety  
---
Rotating your tires is an important part of tire maintenance. Periodically changing the position of each of the tires on your vehicle will help spread wear evenly across all four tires, and their tread life will be maximized.  
Rotate your tires based on recommendations in your vehicle's owner's manual. If not rotation period is specified, we recommend every 5000 to 8000 miles or when you change your oil is ideal. It is a good way your inspect all of your tires for damage or uneven wear, ensuring that your care is #RoadReady. 
Learn more about tire safety: www.ustires.org/ntsw
#NTSW #TireSafetyTips #TireCare  
---
Checking your tires tread regularly can reduce the likelihood of being involved in a crash.  
Using the penny test to check your tread is a cheap and easy way to keep yourself and your family safe on the road.  If part of Lincoln's head is covered by the tread, you're good to go. If you can see all of his head, it's new tire time.   
Learn More: www.ustires.org/ntsw #NTSW #TireMaintenance #TireSafety  
Visual Assets 
Find a full suite of graphic tiles here: NTSW graphics 
Sources: 
https://www.ustires.org/ustma-announces-date-national-tire-safety-week-2022-june-27-july-3  
Additional Resources: